The Sapphire Foundation - Mission
To support and encourage children to pursue their interest in science, maths and technology
To provide scholarships and support to secondary students with outstanding abilities in science, to assist them achieve their potential
To provide grants which can be allocated to community science-related programs and projects
To encourage and promote educational and associated activities for the betterment of learning in schools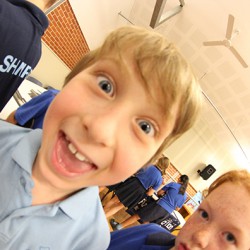 Science is the how and why of the world around us. In everyday life we are surrounded by the results of scientific inquiry, research and innovation. DVD's, mobile phones, the Internet, Bluetooth, GPS, carbon fibre, MRI scans, laser surgery and gene sequencing are just some examples of everyday items that did not exist 30 years ago.
More importantly, the scientific underpinnings of many of these technologies had not even been discovered then.
Yet when secondary students are surveyed, they often don't see the relevance of the rapid and significant scientific advances which underpin our modern life:
Almost
never
Some-
times
Often
Very
often
Almost
always
Science is relevant to my future
19%
36%
23%
13%
9%
Is useful in everyday life
18%
40%
24%
12%
6%
Deals with things that I am concerned about
31%
36%
19%
10%
4%
Helps me make decisions about my health
35%
35%
17%
8%
4%
Helps me understand environmental issues
12%
31%
28%
19%
10%
Australian students have fallen behind other OECD countries in science and maths, and the gap is widening.
Research shows that children in regional and rural areas are at a disadvantage - they don't participate in science subjects as much as their city counterparts, and their results are also lower. Given that the rate of scientific discovery will continue (and even accelerate) over the next decades - with or without Australia participating - it is vital that all young people with ability be motivated to get involved with science. The perception that science and mathematics are 'boring' and 'too hard' needs to be overcome.
Students with academic ability should be encouraged along the path of discovery - to inspire them to discover the beauty and joys of maths, physics, chemistry, biology and the earth and medical sciences. And from a practical career point of view science, technology, engineering and maths (STEM) are areas where the jobs will be in the future, and where skills are transferable internationally.
The Star Achievers Program
The Foundation's Star Achievers scholarship program identifies secondary students who have already shown an outstanding level of ability and potential (specifically in the areas of science and mathematics), and encourages and develops them through the award of science-related scholarships.
More Info
Who we are
The Sapphire Foundation is an Australian not-for-profit charitable fund operating on the Far South Coast of N.S.W.

What we do
Star Achievers scholarships are available to students attending selected secondary schools in the Bega Valley and Eurobodalla shires.
There are two separate Star Achievers programs covering the Year 8-9 and Year 10-11 school years.

Yesterday, Jade Moxey won the 2017 national BHP Billiton Science & Engineering Awards with ...